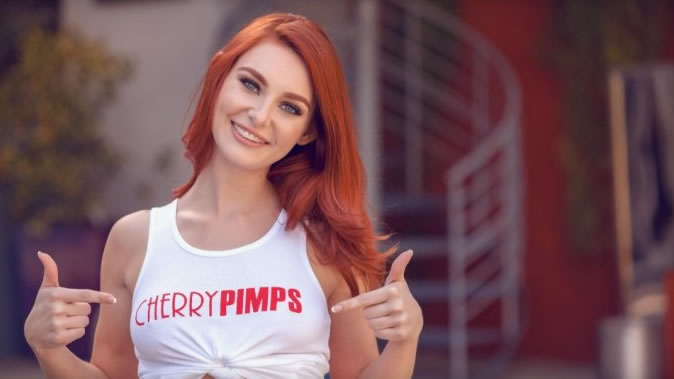 CYBERSPACE — Newcomer Lacy Lennon is the Cherry Pimps "Cherry of the Month" for April.
Lennon's uninhibited on-camera mojo landed her on the Cherry Pimps radar with a solo WildOnCam show, among other camming escapades. A studio rep praised Lennon's versatility and ability to quickly adapt to wildly different settings and scenarios.
Each Cherry Pimps Cherry is a "hot and fresh model" whose prize, the rep said, includes $500 cash and a two-day shoot with photographer and producer Dean Capture. Each Cherry will contend for Cherry of the Year, which also includes a cash prize and other rewards.
The 2019 Cherries, to date, are Emily Willis (January), Ember Snow (February) and Gianna Dior (March).
"I had been hearing about this new performer named Lacy Lennon and the next thing I know, Cherry Pimps had decided to shoot her for 'Cherry Of The Month,'" Capture said. "Cherry Pimps doesn't usually shoot brand-new performers, but while Lacy had been in the industry for only a few months, she had made quite an impression on producers within the industry and on Cherry Pimps members. I couldn't wait to get her in front of my camera."
Lennon's Cherry spotlight includes three "fiery" solo scenes, a B-G scene with Quinton James and a G-G hookup with Serene Siren.
"I was truly honored and surprised to be named Cherry of the Month! I was even more excited when I was asked to help with creative input," said Lennon. "They let me genuinely express myself and some of my creativity; that made me feel like I mattered. I had extremely specific ideas that could have just been shot down, but everyone was so supportive about making it as close as we could to our outlined ideas."
She praised Capture and her scene partners. "Dean is an extremely talented individual, and I'm glad that he saw what I was envisioning and was eager to bring it to life," Lennon said. "My beautiful talented costars, Serene Siren and Quinton James, I thank you both for being there for me and giving your absolute 110-percent with the most positive attitudes. Cherry Pimps has made a memorable impact on my career, and that puts me over the moon. So much love; thank you!"